... And TV.
I almost don't want to post this because am I the only one who wants to spew violently when people are like "I ship them" or use the dreaded "OTP"? Please go find your own social life and stop spending so much time on the internet. Sorry that's actually quite rude of me haha, anyway, there are a few that have stuck with me over the years:
(Liz, what is OTP? this is how much tv I need to watch)
1. Rory & Jess
(Gilmore Girls)
Jess didn't even need any redeeming features, Funsponge Dean was not a hard act to follow. Nevertheless he was a great character, and they will forever be my favourite couple and he will always be my dream boyfriend. He was well read and intelligent and witty and his wide vocabulary made me swoon. He listened to punk and he understood Rory and Lorelai's pop culture references, and actually had a sense of humor unlike some (Dean) people. There's nothing like a bad boy. I enjoyed watching him fight with everyone. He was exactly what Rory needed and they had so many beautiful moments that 12 year old me almost had a breakdown.
(I find it kind of funny that she has a boys name and he has a girls name. teehee. sorry.)

(Also I'd like to point out I accept that he had his very awful crazy moments but he redeemed himself later in the series and I can't not love that face)


What a classic. Summer was actually cast as a guest star when they started filming, imagine if Seth had ended up with Anna! So wrong haha. I also like the Princess Sparkle/Captain Oats subplot. This was a hilarious scene, and the aftermath:
"Ryan
I was Nemo
, and I just wanted to go home!" They were one of those couples who were always a couple even when they weren't a couple and I love them eternally.
3. Freddie & Effy (Skins S3-S4)
Not the most functional or official couple, but when they have their moments they are beautiful, like really beautiful. The scene where they swim to each other in 3x05 has to be one of the best of all time. Things go on a terrible downward spiral and the end of season 4 is just ridiculous, but up til then I loved watching them. An awful relationship, yes, but Freddy's determination to save her is a beautiful thing. (Cue tears). The real reason I included them is cause Freddy is a bit of a dreamboat but shh.
4. Jane & Kevin (27 Dresses)
This one kills me. I think Kevin might be my dream man. Look at his face. His cynicism and sarcasm and straight up rudeness just make my life. And when he says "I cried like a baby at the Keller wedding" my heart melts. Come on. I'm Bennie, he's the jets. Such a great couple.
5. Holly & Paul (Breakfast at Tiffany's)
While lovely, another one where she's got too many issues for my liking and she needs him. Not okay. But the movie is pretty and they have the best kiss in the rain. Obviously this is a great film but I just want to point out that's not a super healthy relationship. Still, one of the best movies of all time.
6. Lucas & Peyton (One Tree Hill)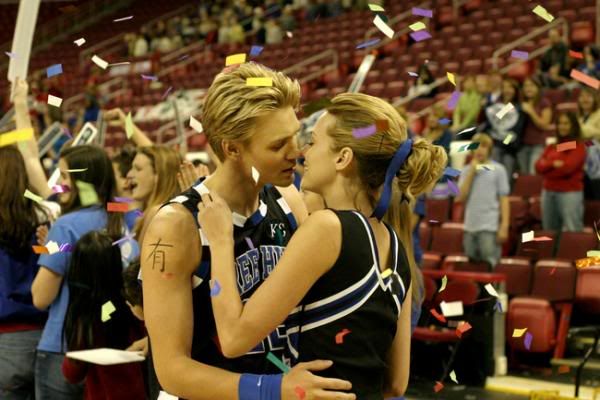 This scene is perfection (
4x09) Lucas is all "
Peyton,
It's you"
and Peyton's all "kiss me you fool"
.
That's not exactly how it went but whatevs.
I've watched it an embarrassing amount of times actually, PS Lindsay had a stupid manface.
7. Chuck & Blair (Gossip Girl)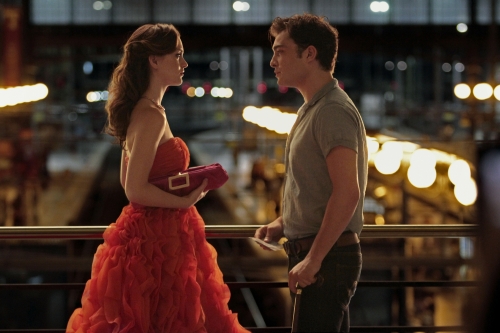 This is an amazing epic one because they're both such strong stubborn people and they can never quite get it to work. So dramatic, so many games, an awful relationship to be in or around, but a great one to watch.
8. Oliver and Emily (A Lot Like Love)
I actually think this is one of the most underrated love stories ever. It may be predictable but it's hilarious and loveable and sweet and Ashton is a babe and did you see how bad their hair was when they met?

(I haven't seen this, but the photo isn't making me rush to watch. . . A)
9. Emily & Naomi
(Skins S3-S4)

Cauuuute. I think this was a wonderfully written and well developed relationship, and I applaud the writers for actually making them multi-faceted characters and not just 'the gay ones' and treating their relationship seriously. It was just two people in love and it was a great love story and Lily and Kat should get awards. Lots of them.
10. Vada & Thomas (My Girl)

Mostly because I cry when he gets stung by the bees just because he was getting the ring for her. Why would he do that? Mood rings aren't even accurate for goodness sake. Arghhhh, it's like in Romeo and Juliet where every time you tell Romeo not to kill himself but he does it anyway!
11. Cliff & Torrance (Bring it On)
They don't even spend much time together but I like the part where they brush their teeth, the part where
he makes her a mixtape, the part where she dances on her bed to it,
and the part where they kiss.
The banter! I can watch this over and over and never get bored. He's so cynical, and she's so optimistic, they disagree on everything, become best friends and fall in love... While still disagreeing on almost everything. And it's got enough plot twists to keep you entertained all through the movie.
13. Patrick & Kat (10 Things I Hate About You)
Can't not put these guys in, come on. It's Heath. Obviously the classic 10 Things poem

and the performance on the bleachers are fab.


"You can't just buy me a guitar every time you screw up, you know. "Yeah, I know. But then, you know, there's always drums and bass and maybe even one day a tambourine."
LOVE ME HEATHHH
Juno: "Cause you're, like, the coolest person I know, and you don't even have to try, you know."
Paulie: "I try really hard, actually."


This one might not even deserve to be here, I don't even know, maybe I just like this movie. How is Channing such a goofy idiot yet so charming? And this scene is just beautiful. Step Up is one of my favourite movies and I'm only slightly embarrassed to admit it.
(You know how much I appreciate that this is in here. Also they are still happily married in real life, which I LOVE.).
So yup I feel like I need to make up for this post by doing something manly or blogging about bench presses and boxing. I probably should do something to keep our male readers entertained, because I did force them to like the page in the first place.
Sorry guys.
Okay bye gonna go watch Jess & Rory make out now.
I'm kidding xoxo Liz